Merging Future Talent
CBS Finance Competition, which will be hosted in week 38-39 2022, targets bachelor and master students across all universities in the Nordic. Participating students will be tested thoroughly in their financial as well as strategic abilities when solving a real-life M&A case.
The annual case competition is open for both bachelor and master students at all major Nordic universities with an interest in M&A. The case will be launched at our case launch, enabling students from outside of Copenhagen to participate in the comfort of their own home universities. Travel expenses of up to €1000 per team will be covered for all international participants making it to the semifinals.
CBS Finance Competition facilitates a unique network between the best students and our corporate partners granting recruiters access to a wide and diversified talent pool.
The case week will terminate with the Grand Finale where the winning team will be awarded DKK 50,000, while the 2nd prize is DKK 10,000 and 3rd prize is DKK 5,000.
Each team will consist of 3-4 students. You can sign up as a team or individually. If you are a part of a team, all team members must sign up individually and write their team name when signing up.
If you are not part of a team, simply write 'X' as the team name, and we will do our best to put you in a team with students that have similar experience and educational background.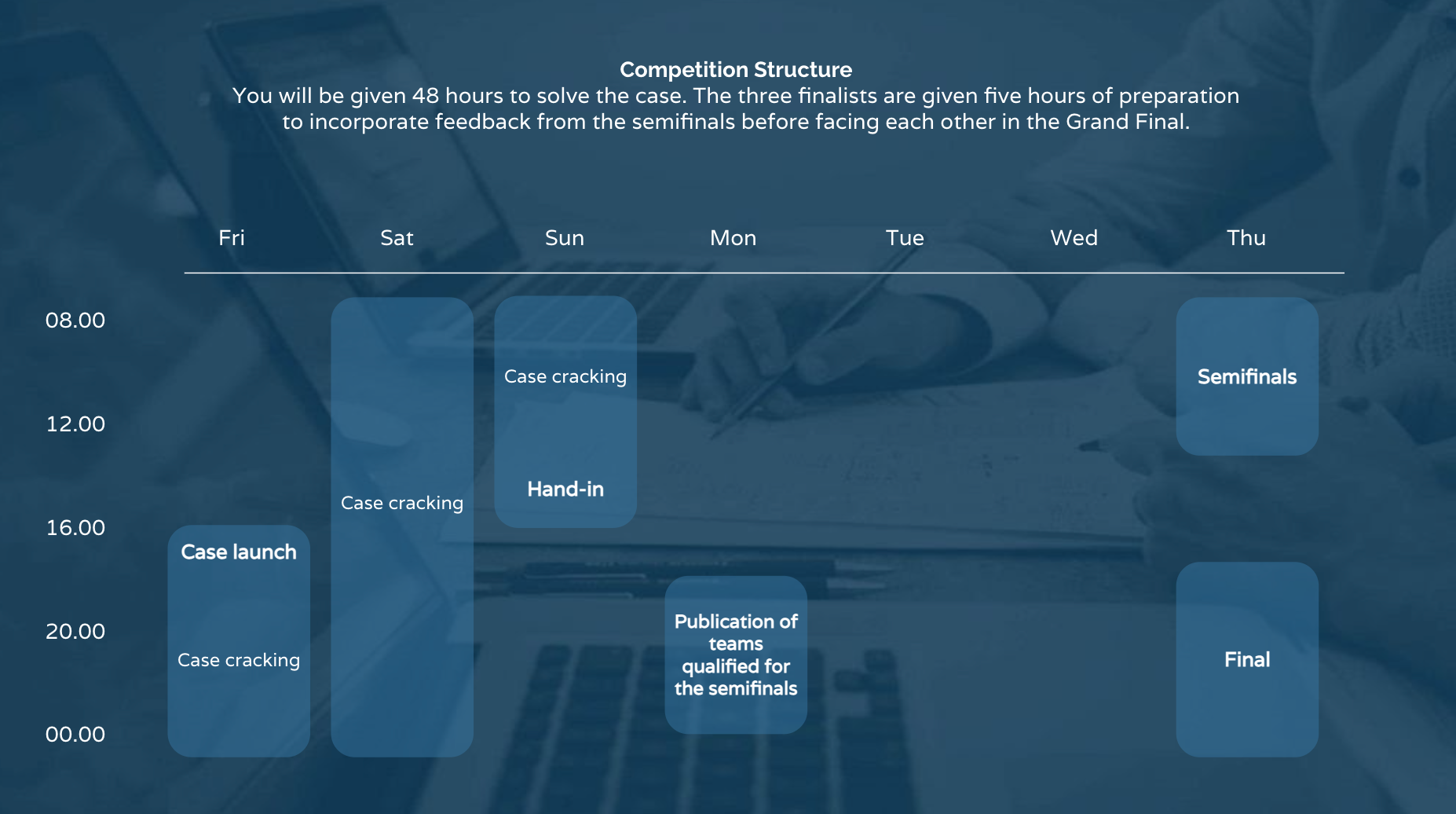 Participating students will be judged on their performance in front of the jury as well as their capabilities in identifying and adressing case specific issues.
The case will resemble all aspects of a typical M&A process in the best possible way.
RESEARCH
Students are provided with case material containing relevant information regarding the current situation of the company and the specific questions, which the students are asked provide an answer to.
ANALYSIS
The students will conduct analyses based on financial, strategic, and legal aspects of the target company utilizing both case material as well as externally available information.
VALUATION
Through databases such as Factset and MergerMarket, the students will come up with a valuation of the company, using a mix of different valuation methods.
STRATEGY
Finally, the students are asked to identify potential buyers and come up with a suggestion for an ideal M&A process together with other financial and strategic alternatives.
PRESENTATION
The students submit their answer in a presentation format and, if selected, they are invited to present their findings in the semifinals in front of experienced M&A professionals.
CBS Finance Competition 2019
Take a peek at 2019's CBS Finance Competition and get ready for the upcoming 2022-edition!
CBS Finance Competition 2018
Prepare yourself and download the case from 2018 on Fitness World!
Download Vasiceks Disciple's – the 2018 winning team – slides from the Grand Finale
CBS Finance Competition 2017
Prepare yourself and download the case from 2017 on Danfoss – the first edition of CBS Finance Competition!